Today we have launched the campaign "That's the freedom we take!" against Vodafone in Germany to protest against violations of net neutrality. The campaign website halbesnetz.de informs about many benefits of a junked network. We also provide a Vodafail remixer, which allows you to enrich the campaign with your own slogans. We collect best examples in a Tumblr-Blog.
Get active.
Remix. Talk to others about it. Tell Vodafone your opinion via Twitter, Facebook or Google+. Demand greater transparency and compliance with net neutrality. Together we can make a difference.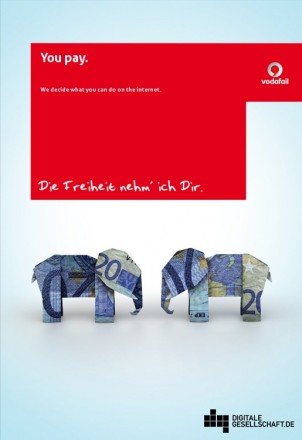 Why Vodafone?
The telecommunications service provider stands for an entire industry that is secretly and quietly burying net neutrality in mobile networks. Vodafone bans certain services for consumers in many of its standard plans in an intransparent manner. So Vodafone sells a stripped-down network as the internet. The small print in the well-hidden terms of service regularly prohibits instant messaging, P2P connections and Voice over IP. Many consumers do simply not know what that exactly means. It is also unclear whether, for example, Facebook chat is prohibited or only ICQ, MSN Messenger or Jabber. But most importantly, the terms of service are usally well hidden once you have clicked your way through the price plan jungle, right before concluding the contract. This is not transparency.
Vodafone is also an interesting case because it has acquired the DSL provider Arcor and is now considering to switch all four million DSL customers to the new LTE standard (4G). Fixed broadband subscribers would then automatically get mobile terms and conditions with a lot of additional restrictions.
We want access to the true internet.
We think that consumers should have the right to decide what local hard- or software they want to use to communicate in the mobile Internet, as well; they must be able to use all online services without someone in the middle deciding for them. We call a network that follows such net neutrality principles the 'true internet'.
What do we want to achieve?
Politics needs to secure net neutrality: Only a full-scale internet access should be allowed to be sold as Internet. Everything else is a sham. Users must have the freedom to use every hardware and software and any application they want. This is what consumers perceive as the Internet. Everything else can also be offered, but must not be called Internet.
Politicians like to point to the market and promise transparency. Actual transparency is obviously not practiced and apparently rejected by some telecommunications service providers. We need a simple and straightforward solution for this problem. Since politicians like to propose that consumers should complain when they have a problem with their current "offer", we offer a solution.
Support our work. Become a sponsoring member or donate.
We want to thank Niels Heidenreich, who volunteered with lots of dedication to design the remixer as campaign tool for us.